2023 Crozet Sports Youth Tumbling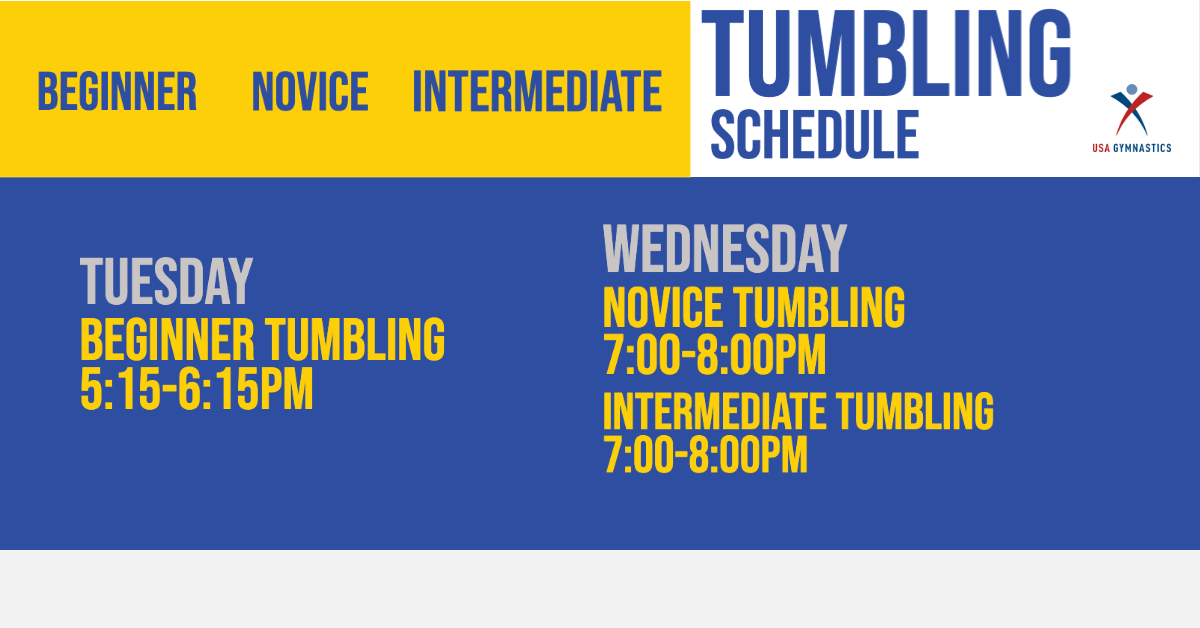 The Crozet Sports Tumbling Program is open to any youth interested in cheerleading, gymnastics, or that just enjoy being active. There are three levels in the tumbling program:  Beginner, Novice, and Intermediate. In the tumbling classes, participants master their tumbling skills at each level as they advance through the program. Tumbling teaches motor and body awareness skills that also translate into improved performance in other sports.   Please refer to the skills list section below to best determine what class level is appropriate for your child.
Parents Guidelines for Tumbling Classes
Here are the skills that will be worked on in each class. If a student can demonstrate mastery of these skills, the instructor will recommend a move up into the next tumbling class.
Beginner:
forward roll
backward roll
cartwheel
running hurdle cartwheel
handstand
bridge walk 10 steps
Novice:
standing bridge
handstand forward roll
handstand to bridge
bridge kick over
back walkover
front walkover
roundoff
running hurdle roundoff
Intermediate:
back extension rolls
standing back handsprings
front walkover/back walkover to skill
roundoff back handspring
pmTumbling Class Options
Class Schedule
| | | |
| --- | --- | --- |
| | | |
| | | |
| | | |
| Beginner Tumbling  | Tuesdays | 5:15 & 6:15pm |
| Novice  Tumbling | Wednesdays | 7:00-8:00pm |
| Intermediate Tumbling | Wednesdays | 7:00-8:00pm |
The monthly program fee will be added to each participants client account the first week of every month.
Ongoing Monthly Fees
This is a monthly recurring fee to maintain your spot in tumbling class.  The goal is to offer 4 classes per month for beginner, novice, and intermediate classes each month.  No prorated fees will be given for missed or cancelled classes.  We will work to offer occasional make-up class options throughout the year to offset any cancelled classes due to weather or instructor availability.