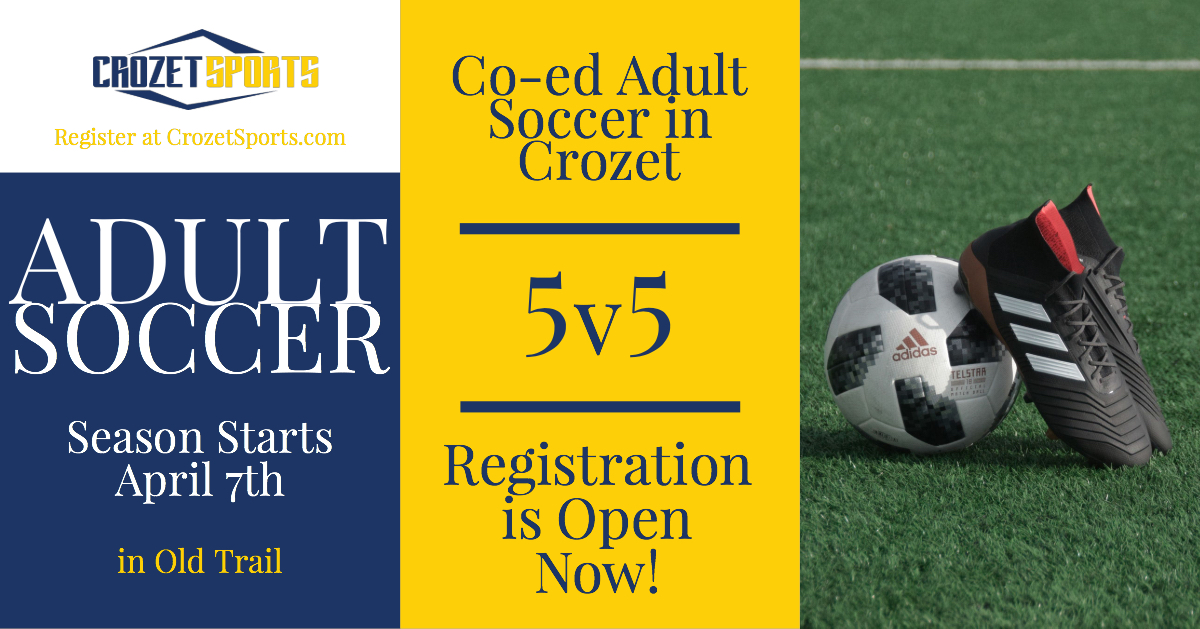 Thank you for your interest in our new Adult Soccer program!  
Our new Adult Soccer program is designed to provide a fun and competitive playing opportunity for adults who are looking to remain active while continuing to play a sport they enjoy   This will be a community-oriented and friendly playing environment that is appropriate for all ages and skill levels. The adult soccer program will continue to be a Spring/Fall tradition in Crozet!      
Location:  Old Trail Community Park
Season:  Starts April 7th & Ends May 26th
Game Days:  1pm to 5pm on Sundays, 8 weekend games
Price:  $40
Age Requirements:

  All players must be ages 25 and up
Format:  Coed 5v5, small field play; two 30-minute halves; a minimum of one female on field at all times; teams may consist of up to 10 players
Registration:  Each individual player must submit registration and payment. You may indicate team and teammate preference on the registration form.  
Refer to player handbook for Rules of Play and Player Conduct guidelines
SPECIAL FOR CROZET AND OUR SURROUNDING COMMUNITies.
Support our community and the development of local athletes. Please contact us if you are interested in joining our team.