2023 Sports Clinics and Camps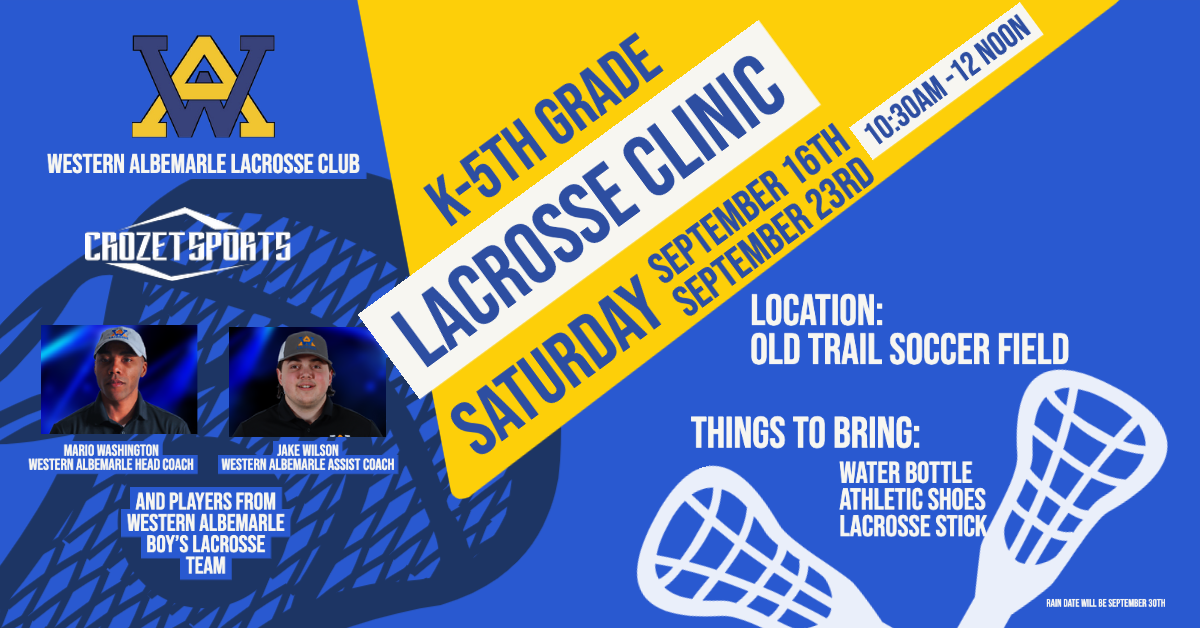 Come out and join the WAHS Boys Lacrosse program for a youth lacrosse clinic in Crozet! Boys and girls grades K-5th are invited to attend one or both clinics on September 16th and 23rd. Coaches Mario Washington, Jake Wilson, and WAHS lacrosse players will provide instruction to young players on the fundamentals of the game of lacrosse in a fun and safe environment. Soft lacrosse balls will be used. These clinics are appropriate for new players to serve as an intro to the game and for players with some experience interested in learning from the best in the area. Players should bring a water bottle, athletic shoes, and a lacrosse stick. There will be some extra lacrosse sticks available but please notify us beforehand if you are in need of a lacrosse stick. Please also indicate the age/grade of your child when completing the online registration.
Things to Bring:
Wear Comfortable Athletic Clothes and Shoes, Lacrosse Stick, Bring Water Bottle. Extra water will be available.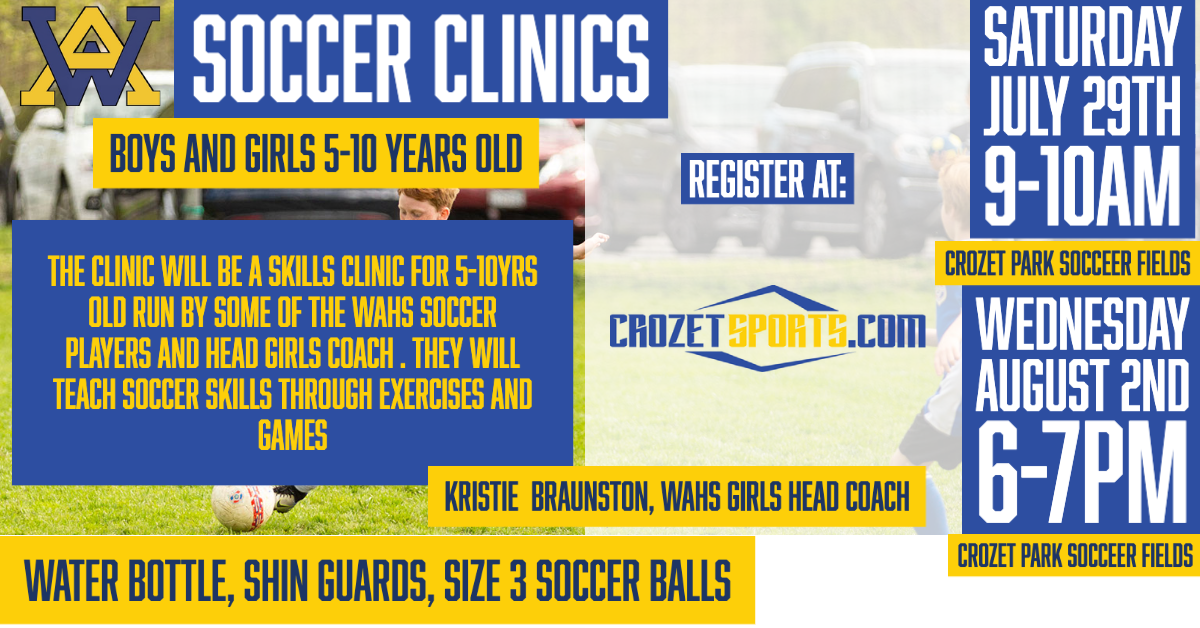 The Crozet Sports youth soccer clinic is for boys and girls ages 5 to 10. Please sign up for one or both youth soccer clinics! We welcome players of all experience levels whether it is your first time or you have played organized soccer in the past. This soccer clinic will be led by WAHS Girls Soccer Coach Kristie Braunston and WAHS soccer players. We invite you to join Coach Braunston for a clinic focused on learning soccer skills through fun drills and games. Please register and pay online before attending. Each player should bring a water bottle, shin guards, and a size 3 soccer ball.
Things to Bring:
water bottle,
shin guards,
and a size 3 soccer ball.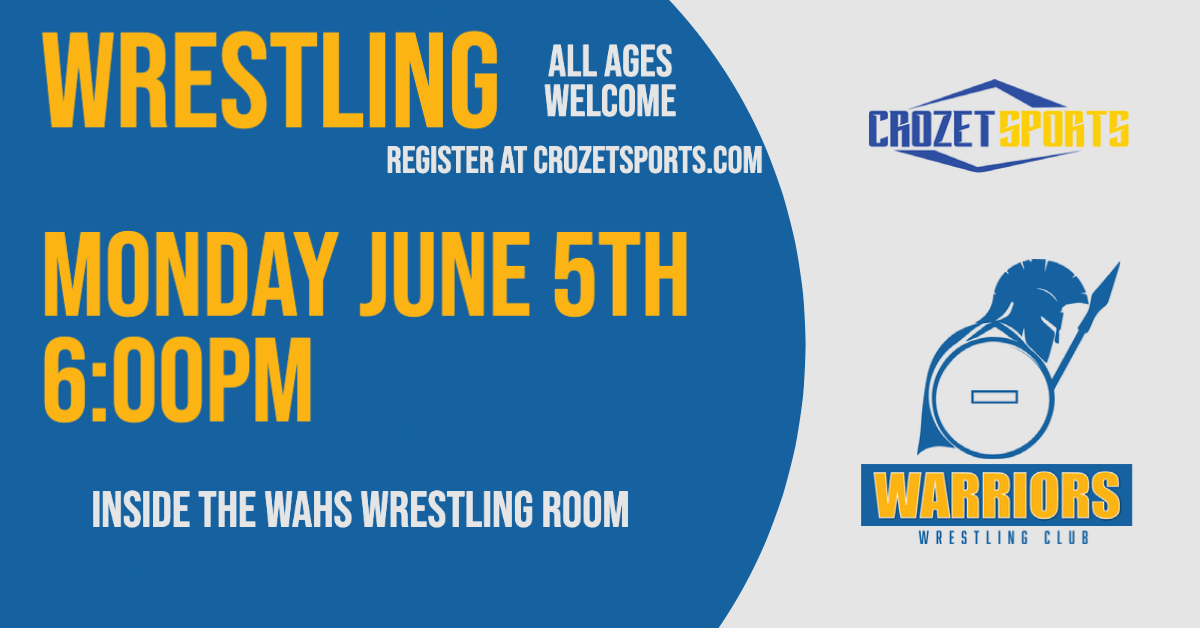 Come learn about the sport that teaches individual grit, determination, and resilience like no others, Wrestling. The head coach of Western Albemarle's team, Coach Scott Townsend and several WAHS team members will be leading an introduction into one of world's oldest and one of the very first Olympic Sports. Kids need to wear comfortable, athletic clothes with nothing sharp, no blue jeans. Socks with tread are preferred and bring a water bottle!
Things to Bring:
Wear Comfortable Athletic Clothes 
Socks with Treads
Bring Water Bottle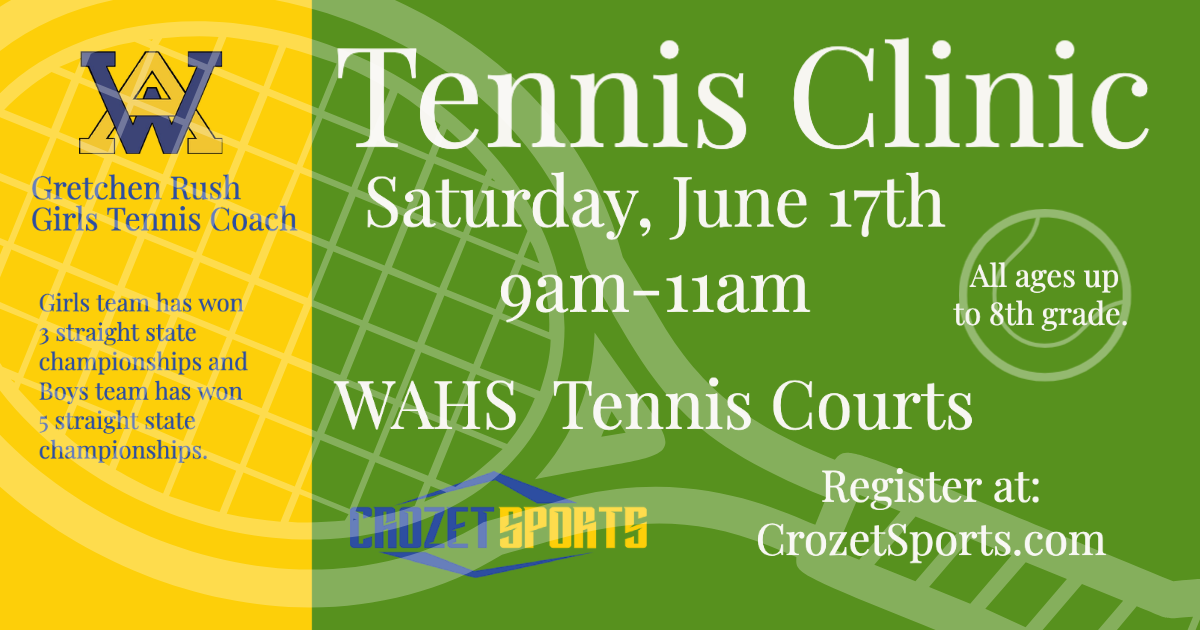 WAHS girls tennis coach, Gretchen Rush, and WAHS tennis players will provide instruction for this developmental clinic. Join the 3x girls state champions in this amazing experience. Meet some of WAHS tennis players and learn from the areas best tennis team. Open to kids in elementary and middle school! Must register to attend. To register, go to crozetsports.com
Things to Bring:
Wear Comfortable Athletic Clothes
Racket (if you don't have a racket let us know)
Bring Water Bottle and a Snack (if needed for a 2 hour clinic)
Crozet Sports will be offering financial assistance to eligible camp families through the Crozet Sports Community Foundation (501c3). Help a family and camper by donating.  All donations will be applied to the Summer Camp scholarship fund.